Vous êtes ici : Accueil › Le site › Les News › Actualité : JE2019 : Interview FF Brave Exvius (EN)
With Japan Expo, producers Kei Hirono and Hiroki Fujimoto made it to Paris to meet the players. We had the opportunity to meet them to ask them some questions!
Warning, some parts of the interview may spoil you.
The interview has been conducted on July 5th in English with Japanese interpretation.
---
The game is using the format 16:9. Nowadays, Smartphones are using a new standard, 18:9, 19:9 or even 21:9. We have those big black bars on top and bottom. Will the game be updated to match these new standards in the coming months?
You're talking about the screen size, right? As you said, there is some kind of differences that come out. But those changes and updates, we need to set as much as we can and in fact, from the developer side on the actual smartphone and the company who creates those phones so it has to be at this standard, it has to be at this format and eventually we will catch up, but there will always be some kind of delay and that process we sought that up, but of course it's not the easiest thing to do.
Please do keep in mind that the game has been released globally and there are so many different countries, so many different versions of phones and tablets as well, so many different devices. To meet the needs of every spec and each and every version of how the game can be played is actually quite a task that we don't take lightly. Making the game available for all of them is quite a big task. We don't take it lightly. We hope that you guys don't either but obviously, as well, we think about the fact that it is a pixelart-based game and also the CG and everything behind the game isn't as quickly adaptable to each version as you may think. There's actually quite a lot of work that happens on the backend that is needed. We also don't want to break down the sizing and the look of how everything feels. We want to maintain a good quality of play throughout.
But we are gradually gonna get to this, so please continue to support us, so bear with us, we do what we can.
Summon Fes is a new type of summoning event introduced in the Japanese Version. This feature is very controversial and a lot of players are wondering if it is coming to GL and if yes, with changes or not.
In regard to the global version, we are currently talking with our team about doing so, there are going to be differences that might be taking the good point we already had from the Japanese version, making it work for our global audience.
In regards to what it's going to be, we are talking about that within our team and looking on what form it is going to be. What we can say is that it won't be the exact same thing.
Who is Veritas of the Frost? Will we see him in Season 3?
I can't say anything, I am afraid (laughs). There is also the Hess' Eight Sages. One of them hasn't been revealed in the whole story, even in Japan. We have those two stories yet to come. We can't say much at this stage.
How do Japanese players react to our Global Unit Exclusive such as Esther, Zeno and Elena? I am sure that they really want them.
The main thing they said is: "Can you put them on the JP version please?" (laughs)
This situation happened before, things coming out on GL first and then ported to the JP version so they can see that there's a possibility.
Like A2 from NieR: Automata?
Yes yes!
Some units from the Japanese version never came to Global, such as Bravely saga or Octopath. Do you plan to make them available here?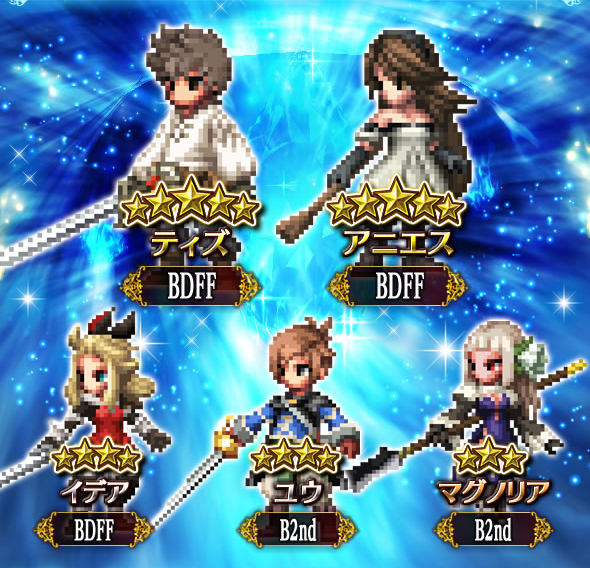 Yes, they will be, indeed. We can't say as far as when on the schedule. As you probably know, they are already out in the Japanese version. They are coming on the Global version, that's all we can say.
Some units' Rarity don't reflect their strength in the main story. For example, Rowen, one of the Hess' Sage, the father of Lasswell, royalty line. His rarity is only 4 to 6 stars. Dark Fina and Sol are also Hess Sages but 5 to 7 stars. I find it very strange that a strong and legendary unit in the story is just… "weak" in the meta.
It really comes down to the game balance which is something we have to protect. Main Character story is going to be influenced by that, for example, Fina, she's going to be a base 5 because she's one of the main protagonists of the story and she's crucial. We have to protect that kind of level of balance between those two rarities in the game.
Dissidia is also a console and a mobile game from Square Enix. If you have to choose one character to appear in Opera Omnia and Arcade, which one do you choose?
Of course, it's going to be the main protagonist of this title, Rain without hesitation. But for example, if there is a circumstance that the Dissidia team say: "We actually haven't got as many female characters. Could you perhaps take one of your female characters?" then, of course, it will be Fina.
Fina or Dark Fina?
It would be great if they can change form in the game, that Fina can change to Dark Fina. That's what we would love.
We would like the same for Rain if he can turn to Hyoh
And also to A…?
(laughs) Yes and also King Rain! Four forms, that would be great!
You're working with Visual Works for the story, CGI Limit Break and Summons. How do you plan your work with them, as it can take a lot of time to create one CGI cutscene?
We understand that quality takes time and we are happy to give that time towards that. We recently announced Elena with the CGI animation that came with her. We started talks on that half a year ago. We do work on that kind of scale to understand how long it's going to take. We work with that in advance so we can make sure we can give that kind of thing when it comes down to asking about the character design and character development and we bring those to them.
Are you planning a worldwide release for War of the Visions? Will it be separated as GL and JP or will we all get the same version?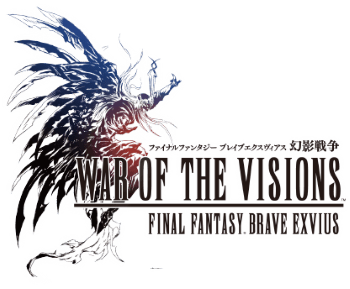 (Kei Hirono gives his phone to me to play the game)
For Brave Exvius, the JP version came about eight months before the global launch happened. This time around, we will have indeed the same thing, as JP version will be released first. However, we endeavour to release the global version in a short time period between them than the last game. It won't be as long as Brave Exvius. We are hopefully thinking of splitting that to half, so about 3 to 4 months between them. This is our plan.
So the game will be different between and we will get some exclusive content on JP and GL right?
Yes, this is the same. With Brave Exvius, we've been matching these two games, we've been having them to work in parallel to each other for so long now so we're going to use that experience of three years to make sure that this time around, we definitely fulfil all of your needs and bring as much as we can on the table.
I am looking forward to it!
(Hiroki Fujimoto gives his phone and shows a cutscene)
Not only in Japanese, but also in English
We will have both dubbing, right?
Yes, Global version will have dual-voices. We also support six languages, same as Brave Exvius but voices will only be in Japanese and English.
Thank you very much!
---
During Paris Fan Reception, both Producers came to each table to talk with players. This was an opportunity to have more information:
Elena will be a part of the main story in GL. In JP, she will be available later and will appear in the story in a different way

Another GLEX unit is coming with Elena's banner. The unit is not CG and her rarity is still work-in-progress. Scheduled for the end of the month (July).

Elena's voice actor isn't famous. She's an English native speaker woman living in Japan

We might see some 5* GLEX units getting their own CG version, like Reberta
Interview: Finaland
English Transcription: Fat Chocobo & Toulal
Special Thanks: Square Enix France, Square Enix Europe, Square Enix Japan

Cette news a été postée le 14.07.2019 à 13h12 par Fat Chocobo.
La source de la news est le site Finaland.
Cette news a été lue 12687 fois.
Il y a 0 commentaire.

Vous devez être inscrit(e) et connecté(e) pour pouvoir poster un commentaire.
Inscrivez-vous dès maintenant !

» 17.08.2020 à 12h47 : FFBE GL : Quatrième anniversaire
» 27.03.2020 à 10h16 : FFBE : Rendez-vous à Amestris
» 25.03.2020 à 10h33 : WOTVFFBE : ouverture de la Guerre des Visions
» 24.02.2020 à 20h20 : War of the Visions : pré-inscriptions
» 12.12.2019 à 13h14 : Le Line-up du Jump Festa 2020
» 12.09.2019 à 20h52 : TGS 2019 : War of the Visions a du budget
» 14.07.2019 à 13h12 : JE2019 : Interview FF Brave Exvius (EN)
» 14.07.2019 à 13h03 : JE2019 : Interview FF Brave Exvius (FR)
» 10.06.2019 à 10h12 : E3 2019 : La guerre des Visions dans Lapis
» 03.12.2018 à 20h11 : FFBE : un troisième anniversaire chargé
» 07.09.2018 à 13h25 : Le line-up de Square Enix pour le TGS 2018
» 18.06.2018 à 17h05 : E3 2018 : Notre récapitulatif complet !
» 16.06.2018 à 14h19 : E3 2018 : Second anniversaire de Brave Exvius
» 11.06.2018 à 21h53 : E3 2018 : Résumé du showcase Square Enix
» 03.03.2018 à 12h18 : Brave Exvius fête les 30 millions

Le reste de l'actualité (archives)
» 07.05.2021 à 15:19 : FF7 Remake Intergrade : Trailer final
» 15.04.2021 à 13:28 : NieR Replicant v1.22 : Du contenu extra (MàJ)
» 13.04.2021 à 16:25 : FF7 Remake Intergrade : Intermission
» 09.04.2021 à 15:19 : Néo:TWEWY : Une journée merveilleuse
» 08.04.2021 à 13:59 : FF7R Orchestra : Paris et Lyon en décembre
» 02.04.2021 à 21:49 : FFXIV 5.5 : Résumé de la 63e lettre live
» 01.04.2021 à 18:50 : Final Fantasy The Spirit Within, le retour
» 28.03.2021 à 20:11 : Finaland fête ses 18 ans !
» 23.03.2021 à 19:33 : FFXI R : Le projet est annulé
» 23.03.2021 à 19:01 : FF7RI : Les amélioration PS5 version longue
» 18.03.2021 à 20:42 : Project Athia devient Forspoken (MàJ)
» 17.03.2021 à 22:44 : Nomura reprend la parole sur FFVII
» 16.03.2021 à 15:51 : Deux conférences au programme de la semaine
» 27.02.2021 à 17:32 : Interview complète de Nomura sur FFVII
» 26.02.2021 à 01:09 : Final Fantasy VII met le paquet !