Vous êtes ici : Accueil › Le site › Les News › Actualité : Gamescom 2015 : Interview Naoki Yoshida (ENG)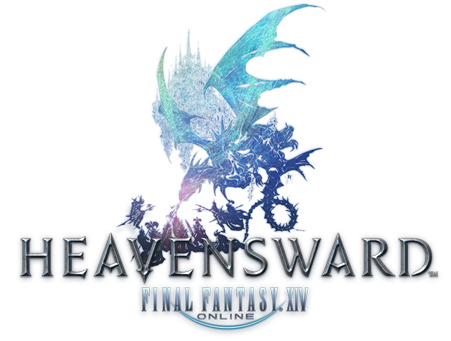 A month after Japan Expo, we made it to Gamescom for a new interview with Naoki Yoshida, producer and director of Final Fantasy XIV. It's been two months since Heavensward, the first expansion is online. It was an opportunity to learn more about the future of the game including the 3.1 patch.
This interview was conducted with our friends from Final Fantasy Dream. Please enjoy !
Naoki Yoshida : First, thank for your support, thank you for coming. I know you have a lot of questions so let's start ! (laugh)

FFDream : Since the patch 2.1, free companies have the opportunity to upgrade their rank to level 8. Relationships between the various Grand Companies are also blocked at Allied for the allegiance city, and Neutral for others. There is many possible things to do with these ranks. Do you plan any evolution for Heavensward?

Naoki Yoshida : There won't be contents exactly connected to rank of Free Companies but as you can play like the exploration and the voyager with the airship so the company crafting will be one of the main content for Heavensward as well as you will be able to actually board on airship and go on an exploration for the floating islands. So those are the contents you can looking forward during Heavensward.

Finaland : The first FanFest was a big success around the world. You said there won't be any Fanfest this year, but are you already preparing the next one which should come next year?

Naoki Yoshida : (laugh) Yes of course we want to have another Fan Festival possibly in the future because as you can see the size of the event was really huge for any cities. Also we have a lot of fans and a lot of people wanted to make to the event so we need to have a lot of time to prepare and organize before. The actual planning for the second Fan Festival has already kicked off. It's still on the planning stage so please look forward to any information and when we have this kind of event, we have to bring a lot of new information, we have to bring big news and new contents.

FFDream : Since its release, gardening didn't have any change or improvement. You talked about the possibility of make gardening in private chambers. Does a next patch can improve gardening and incorporate this system in the chambers?

Naoki Yoshida : We are working on updating gardening so you can plan something in your own chamber but we didn't promise that it comes in 3.0. But the team is working on it and we don't if it will be 3.1 or 3.2. It's under development so please look forward to it whenever it's ready.

Finaland : The first time I went to Azys Lla, I've heard the bagpipe music. I don't think it fits well with the atmosphere of this area… Has it been done on purpose ?

Naoki Yoshida : It's more like a personal preference maybe ?

Finaland : It's what I read on Reddit or FFXIV Official Forum

Naoki Yoshida : What kind of music you prefer or what kind of music you provide is like two each persons and also the standard is different to each one. So someone may like this music but someone might don't. It's not really a question I can answer. It's not like we're against your opinion. Some people think that the music in Azys Lla is great so…

FFDream : During the transition from version one to the second, you greatly simplified the craft. For Heavensward, the craft is near to what was the version 1 in terms of difficulty. For example : - It needs a lot of components to create an item, - It is now necessary to have recipe books to make basic crafts in order to give them to the Grand Company... Many players get discouraged with this method. What is your opinion ?

Naoki Yoshida : Keeping something simple or easy is a bit boring. We wanted to have some kind of new challenge for you to work on so it's the same for the battle classes which have new actions and new skills. You have to try bringing a higher DPS for the combat class. For crafter side, there are also new challenge. You may going to a lot of steps : you need the materials to make the actual final product. This is a game, that's why we wanted to do this. We will never going back to 1.0, this is something we want to avoid so please don't be worry about it.

Finaland : Ultima and Shiva's Part 1 music do not have any lyrics. They use random latin words. Why that choice ?

Naoki Yoshida : When Soken wanted to make the music for this, he asked Koji-Fox for the lyrics : what kind of lyrics would fit to the music. Koji-Fox said that Latin was suitable for this kind of music but Soken doesn't speak or learnt how Latin works. He uses a tool and there is a button so he just pressed it and latin words just surrounds him. There is not much meaning. It's the song of miracle !

Naoki Yoshida imitating Masayoshi Soken when he generates random latin words for his music

FFDream : Recently, Lodestone introduced the possibility to see a lot of things with the Retainers. Visualizations of sales made, inventories, and even the progress in an assigned task. Is this the beginning of an entirely web management (or even smartphone application) for Retainers?

Naoki Yoshida : The team is working on trying to develop an application like we don't logging in the game but you can access to your retainers and actually control the retailers with this apps. However in order to do that, we need a lot of development cost and also the communication cost will be in core. That's something we are working on.

Finaland : We are actually in Heavensward but there is one thing, one mystery from A realm reborn that remains unsolved. Who is this goddess behind the crystal that is pictured on the artwork from Yoshitaka Amano for the A Realm Reborn Collector's edition. Is it a physical representation of Hydaelyn?

Naoki Yoshida : I'm not giving you a direct answer but when we requested Amano-san for this illustration, our request was like : We want to have this Mother Crystal as Hydaelyn and also wanted Amano-san to draw a Goddess and this is the result of the draw.

FFDream : Heavensward increase the level cap from 50 to 60 but some things haven't changed like the bestiary or guildhests (lvl 40 max). Why, and do you want to add that content in the future ?

Naoki Yoshida : For Guildhest, they are the way to learn how to play your role and also how to play in party so we thought that until Level 40, you can learn everything by playing these so there won't be any update or new content added to Guildhest.

Regarding the bestiary, there is a lot of back-end saving data necessary because we need to flag which monsters hasn't been killed so if we increase this to Level 60, we need more save data for that. However, we're also suffering about inventory and armory. There are not much slots available so we want to focus more on inventory and armory slots rather than bestiary. However, we're trying to work on some new contents, new brands contents instead of Bestiary.

FFDream : A lot of personal house are abandoned by inactive players and there are none personal house available at this time. Do you plan to do something on to fix this problem ?

Naoki Yoshida : Actually we already announced that but for 3.1 we're trying to make a system where it can remove inactive houses and also a support system to help players to move from house to another house. This will lead to get rid of inactive one so if you can wait a little bit, it will be great !

Finaland : You talked about the possibility of adding Blitzball to the Gold Saucer. Is it a true project or was it just a joke between Kitase-san and you? What about the Snowboard game ?

Naoki Yoshida : (laugh) First I never confirmed about the Blitzball being in game… I know so many European players requested Blitzball. I acknowledge and understand your demand but we never said we're going to do it.

Finaland : We wanted to know if it was a joke between you and Kitase-san or a real project you had in mind ?

Naoki Yoshida : (laugh) What happened between Kitase-san and me was I told him European players want Blitzball and Kitase-san said "Oh I didn't know about this". "If we have Blitzball in XIV, would that be Ok ?" I asked Kitase-san for the approval and he replied "Yes go on !". That was the story behind it.

As for Snowboarding, if we really make it possible in game, we want make a proper one so that the crafter can make a board and binding and player can use it. But it's going to be online so the communication has to be between the client and the server so it's not the standalone offline game. We have to work on the back-end system as well. It might take a while. At 3.1 it's not gonna be Blitzball or Snowboard unfortunately but it's gonna be another really big attraction added. So please look forward to this content. (e.d. It is Lord of Verminion)

FFDream : Lots of things was made around free companies houses and it's a very good thing ! However, there is no noticeable changes for the personal house. Do you have any plans for the future on this subject ?

Naoki Yoshida : I want to talk separately about chamber and personal housing. For the chamber update, as I said the gardening feature will be available for the chamber like where you can go in your own garden from your room. As for the personal housing, we had a lot of requests from players who did Eternal Bonding. They want to share Chocobos and also do some work on house. We are working on ownership sharing and it's going to come with 3.1

Finaland : Housing is a big part of Final Fantasy XIV RP but it's not lively enough. What is are you planning about this feature ? For example, more furniture slots or retainers inside with interactions etc… ?

Naoki Yoshida : As for the limitation of slots, first we have to sort out those inactive houses as we've talked before because we're using so much housing data just because of this. So it's also directly linked to retainers as well. First, we want to provide houses to people who don't have house at the moment. After we focused and sorting out all this, then we can probably working on increasing furniture slots and also retainers availability.

FFDream : Do you think Ishgard will have its own Grand Company, or will be a starting City-State later ?

Naoki Yoshida : Ishgard being a starting city is not going to happen. The reason about this is because monsters around the city are level 50 and more so if you start with a level 1 character then you gonna be just… And there is no guild so you won't be able to do anything. About Grand Company, it depends about how you, players, act in the game.

Finaland : We have a lot of bad guys such as Ascians and the Empire but the first thing that pop into my head is Allagan. Their civilization were way too advanced and what happen in Eorzéa is because of them. What is your point of view about Allagans ?

Naoki Yoshida : The model for the Allagan civilization is the reflect of the real world, about what happening at the moment and in the future. If we're going in the wrong direction, we may end up in the same situation as them. If you look at Azys Lla there are a lot of experiments facilities where a lot of animals and monsters are being in experiment. It's not gonna be a good world isn't it ? So it's more like a reflection of our real world and also the future. And the same situations that we won't avoid.
A big Thanks to Skypirate and Tus from Final Fantasy Dream. We also want to thank Square Enix France, Square Enix Germany, Square Enix Europe and Square Enix Japan for making this interview possible.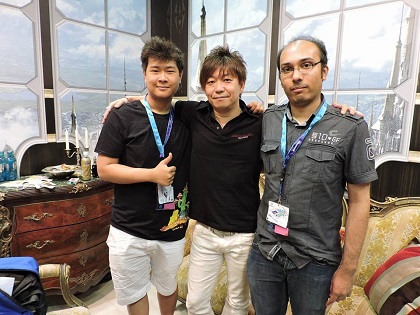 Cette news a été postée le 24.08.2015 à 18h07 par Fat Chocobo.
La source de la news est le site Finaland.
Cette news a été lue 7347 fois.
Il y a 0 commentaire.

Vous devez être inscrit(e) et connecté(e) pour pouvoir poster un commentaire.
Inscrivez-vous dès maintenant !

» 08.07.2020 à 12h54 : Au coin du Square 2, tour de l'actu de juin
» 12.10.2018 à 13h37 : GC 2018 : Interview Final Fantasy XIV (ENG)
» 09.10.2018 à 12h47 : GC 2018 : Interview Final Fantasy XIV (FR)
» 20.01.2018 à 00h17 : FFXIV - Compte rendu de la 41e Lettre Live
» 01.09.2017 à 12h00 : Le line-up de Square Enix pour le TGS 2017
» 01.09.2017 à 11h38 : Le drama FFXIV: Dad of Light est sur Netflix
» 08.08.2017 à 15h20 : FFXIV : 10 millions et patch 4.06
» 07.06.2017 à 16h41 : FFXIV Stormblood - Le trailer de lancement
» 23.05.2017 à 00h45 : FFXIV - Le gameplay de Stormblood dévoilé !
» 28.04.2017 à 20h33 : FFXIV - Compte rendu de la 35ème Lettre Live
» 28.03.2017 à 01h08 : FFXIV : La fin d'Heavensward est arrivée
» 18.03.2017 à 20h43 : FFXIV : Fan Festival 2017 à Francfort
» 23.02.2017 à 13h53 : FFXIV - La maj. 3.55a arrive le 28 février !
» 23.02.2017 à 00h38 : Final Fantasy bat 3 records du monde
» 18.02.2017 à 17h08 : FFXIV : Compte-rendu Keynote de Francfort

Le reste de l'actualité (archives)
» 09.12.2022 à 04:52 : TGA2022 : FINAL FANTASY XVI arrive en juin
» 09.12.2022 à 02:48 : TGA2022 : démo Forspoken disponible sur PS5
» 29.11.2022 à 11:48 : CCFF7R : Trailer de lancement
» 25.11.2022 à 23:01 : CCFF7R : Plus qu'un remaster
» 13.11.2022 à 23:18 : PGW2022 : Forspoken et FFVII CCR présents
» 11.11.2022 à 14:45 : FFXIV : Résumé de la 74e lettre live
» 08.11.2022 à 21:55 : Valkyrie Elysium : Mise à jour gratuite dispo
» 03.11.2022 à 10:03 : Sortie en France de l'Ultimania FF7R
» 28.10.2022 à 22:12 : Les Kupo-garous attaquent à nouveau !
» 27.10.2022 à 23:03 : SOPFFO : Le Vagabond des Dimensions
» 20.10.2022 à 16:12 : FFXVI : L'Ambition d'un trailer
» 08.10.2022 à 11:42 : FFXIV : Résumé de la 73e lettre live
» 28.09.2022 à 00:39 : Star Ocean TDF : Résumé des dernières vidéos
» 26.09.2022 à 22:21 : Octopath Traveler II nous montre son gameplay
» 24.09.2022 à 14:30 : RomaSaGa Minstrel Remastered : TGS 2022