Vous êtes ici : Accueil › Le site › Les News › Actualité : MAGIC 2017 : Interview Tetsuya Nomura (ENG)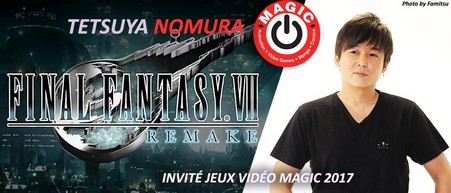 In parallel with the Final Fantasy XIV Fan Fest, the MAGIC was held in Monaco. Among all the guests appeared Tetsuya Nomura. Final Fantasy VII Remake and Kingdom Hearts 3 director held a conference about his character designer and director career.
In the company of KH Island, FFDream et GamersFlag, we met him for a short interview.
The interview has been conducted in French with Japanese translation on Saturday, February 19th
Finaland : Hello Mr.Nomura, thank you for receiving us. A short question for the beginning: What do you prefer between producing and character design ?
Tetsuya Nomura : What I prefer, nonetheless, is producing since I am completely free. But because I've entered as designer in the company, I still do character design.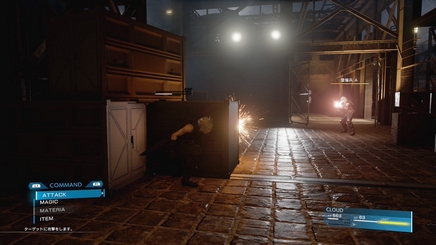 KH Island : What is an ordinary day for Tetsuya Nomura ?
Tetsuya Nomura : Instead of a day, I will talk about a year. I work year-round constantly. I take very few breaks whereas I need them more and more. Because, you see, I get older, I am aging. My colleagues do not seem to notice that and continue to give me work with a frenetic pace, as if I was still young and had the energy of old days.
Final Fantasy Dream : Why are you distant with social media?
Tetsuya Nomura : Nowadays with the new modes of communication, we can be very close to fans. We notice it with other developers who communicate a lot. The only thing that displeases me is a tendency to find a situation where, as we have become closer, we have to pay attention to the information we share. I have to hold back about sharing information and I really don't like this approach.
A former employee told me once to keep a certain distance with fans, with the people following you. Without this distance, we are exposed to the risk of losing objectivity. Today I still continue to follow this recommendation.
Final Fantasy Dream : So, how do you get fans' opinions ?
Tetsuya Nomura : I read a lot of reviews but I pay attention to read them discreetly. If not, I think too much about it.
GamersFlag : Would it take sense to you to create an HD Remaster of Compilation of Final Fantasy VII ( Before Crisis, Crisis Core and Dirge of Cerberus) on a unique platform like you did with Kingdom Hearts ? Beyond the possibility of making it, would you like to do this ?
Tetsuya Nomura : Concerning Final Fantasy VII Remake, which is a title loaded with a lot of mystery for now, it will be different from the original Final Fantasy VII. If we make a compilation, these games will hardly have an overall coherence. It will be difficult because there is no more continuity between the Compilation and the Remake for the moment.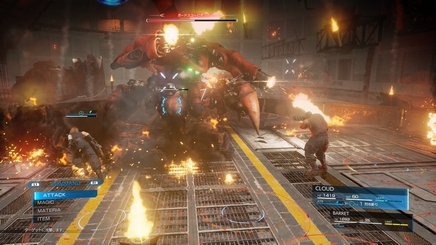 KH Island: According to you, what game was the turning point of your career ? Final Fantasy VII and his huge success in Western countries or Kingdom Hearts, your first project as a director ?
Tetsuya Nomura : I think it is Kingdom Hearts.
Finaland : You have a particular talent to make trailers and opening cinematics with high quality who brings a lot of emotions to fans. What is your secret ?
Tetsuya Nomura : I have a fairly repetitive process. Actually I watch several times what I have made and I try to put myself in different points of view. For example as a fan, I try to imagine what they would want and I watch the trailer. After this, I watch it another time as someone else.
Final Fantasy Dream : Will the maturity that characterizes the original game be retained in Final Fantasy VII Remake?
Tetsuya Nomura : A lot of things will change, but the essence of the universe will not. That is one of the things that will remain intact.
GamersFlag : About Kingdom Hearts saga in general, as you talked about it during your conference, what were your arguments to convince Disney and Square to chose an unknown hero, Sora, instead of Donald or Mickey?
Tetsuya Nomura : As I said on stage ; I showed them a design, and it turns out that I often do not listen too much to what people are telling me. So I said to them: "No, I do not want to do that", and finally it happened. In fact, it is not that hard. The thing is that the Japanese people don't say "no" clearly, they do not announce their opposite opinion directly. However, I did it this time and it surprised everyone. From there they did not continue too much to impose their ideas on me. Finally, I found it rather easy.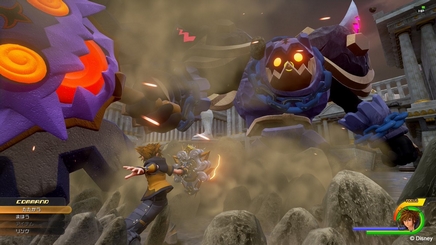 Finaland : Your style and work inspired a lot of young artists, especially since Kingdom Hearts. What message/advice would you like to share with them ?
Tetsuya Nomura : I do not think I inspired so many people. I would say we really have to do what we want to create. As a designer, if we create things only by following the orders given to us, we become a boring tool to use. This is even more the case when you are an "average" artist. As a result, I think we must stay flexible and find the right balance between executing orders and saying no to preserve their own vision as an artist.
Transcription: Jérôme Arzel (FF Dream)
Translation: Mr.Cloud, ff fanatics, Tizona, Darki
Correction: Tizona, Darki
Special Thanks: MAGIC, KH Island, FFDream, GamersFlag
Interviewers: Mr.Cloud, Tsukishiro, Jérôme Arzel, Powerfull04 (Gamersflag)

Cette news a été postée le 26.02.2017 à 20:12 par
Mr.Cloud
.
La source de la news est le site
MAGIC
.
Cette news a été lue 10083 fois.
Il y a 0 commentaire.
Vous devez être inscrit et connecté pour pouvoir poster un commentaire.
Cliquez ici
pour vous inscrire dès maintenant !

Concernant Final Fantasy VII Remake
» 20.06.2018 à 11:59 :
FFVII Remake : Nomura tente de nous rassurer
» 23.04.2018 à 18:00 :
Les promesses de Final Fantasy VII Remake
» 24.12.2017 à 01:31 :
Kitase répond aux théories des fans sur FF
» 22.09.2017 à 17:45 :
Square Enix : le rapport annuel
» 29.05.2017 à 11:56 :
FFVII R : le développement passe en interne
» 09.03.2017 à 23:57 :
FFVII Remake : Nomura continue d'en parler
» 26.02.2017 à 20:12 :
MAGIC 2017 : Interview Tetsuya Nomura (ENG)
» 26.02.2017 à 20:01 :
MAGIC 2017 : Interview Tetsuya Nomura (FR)
» 22.02.2017 à 14:03 :
FFVIIR : Le doublage quasiment fini
» 20.02.2017 à 15:53 :
MAGIC 2017 : des images pour FFVIIR et KH3
» 14.02.2017 à 16:08 :
MAGIC 2017 : Le programme de Tetsuya Nomura
» 02.02.2017 à 19:05 :
Tabata et Kitase dans le Famitsu
» 31.01.2017 à 15:56 :
FF 30th Anniversary : Le récapitulatif
» 10.11.2016 à 01:03 :
Shinji Hashimoto parle de FFXVI et FFX-3
» 20.10.2016 à 14:41 :
Tetsuya Nomura sera à Monaco en février
Le reste de l'actualité
(
archives
)
» 09.03.2019 à 15:23 :
Octopath Traveler se décline en série
» 28.02.2019 à 16:26 :
DFFNT : Sortie sur Steam et Free Edition
» 28.02.2019 à 14:58 :
KHIII : Interview de Tetsuya Nomura
» 28.02.2019 à 12:35 :
Résultats des FINALAND AWARDS !
» 19.02.2019 à 21:23 :
Des résultats en demi-teinte chez Square Enix
» 17.02.2019 à 13:49 :
Final Fantasy XV : Le prologue d'Ardyn
» 14.02.2019 à 00:18 :
Résumé du Nintendo Direct du 13/02
» 09.02.2019 à 19:49 :
FFXIV : 49e Lettre Live du Producteur
» 06.02.2019 à 13:18 :
FFXIV : Ouverture des précommandes !
» 29.01.2019 à 11:47 :
Dissidia NT : La fin du Season Pass
» 29.01.2019 à 09:43 :
Sortie de Kingdom Hearts III
» 25.01.2019 à 12:25 :
Résultats du concours de Noël 2018 !
» 10.01.2019 à 15:52 :
Nouveau teaser pour Episode Ardyn Prologue
» 09.01.2019 à 01:16 :
Concours de Noël et nouvelle année !
» 18.12.2018 à 21:53 :
Votez pour les FINALAND AWARDS !